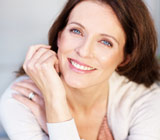 "Smile, and the world smiles with you," the old saying goes. For people who are afraid to smile because they don't like how their smile looks, the twenty-first century offers a myriad of solutions. Smiling shows your teeth in their various shapes, colors, and sizes, your gums and gum line, your tooth alignment, spacing, and bite all in relation to the rest of your face. Any of these can now be improved.
Through the knowledge, skills, and combined experience of our dental team, it is now possible to make teeth whiter, brighter, and more evenly aligned, to alter tooth shape and size, and to make the teeth and gum line more proportionally balanced. Here are some options for cosmetic dentistry:
Polish. Remove unwanted stains on outside tooth surfaces by having your teeth polished.
Teeth Whitening. If teeth are stained or have just lost their luster, whitening is a safe and effective way to lighten a smile.
Porcelain veneers. Applying a thin layer of dental porcelain restorative material to replace stained or damaged tooth enamel can truly change a smile.
Porcelain crowns. If teeth are damaged by decay or trauma, porcelain crowns can replace the parts of the teeth that show above the gum line.
Orthodontics. For teeth that are not in their correct and functional position, a variety of orthodontic techniques can be used including traditional braces, clear aligners and more—to improve crooked teeth or a malaligned bite.
Dental implants. Nothing ruins a smile more than missing teeth. Entire teeth can be replaced, including the roots and the crowns, using dental implants. These are exact replicas of the natural teeth and can be made to match their neighbors exactly.
To learn more about all types of cosmetic dentistry, read "Cosmetic Dentistry, a Time for Change." Or if you prefer, you can contact us to discuss your questions or to schedule an appointment.