My Blog
Posts for tag: bonding
By Office of Charles E. Scholler DDS
July 16, 2015
Find out the different dental treatments in Camarillo that could give you a new and improved smile.
Are you ready to breathe new life into your lifeless smile? Looking for some cosmetic dentistry options to suit your needs? Your Camarillo cosmetic dentist Dr. Charles E. Scholler is here to offer a wide variety of cosmetic treatments to give patients the smiles they deserve.
Dental bonding and contouring
Are you looking to buff out minor cracks and chips or cover small stains? If so, this non-invasive cosmetic treatment may be all you need to have the perfect smile. Dental bonding uses a tooth-colored resin that is applied in layers over the tooth. The material is putty-like so your Camarillo dentist Dr. Charles E. Scholler can easily shape and manipulate the resin to give you a natural look. Dental bonding can also be used in conjunction with cosmetic contouring, in which we remove small pieces of enamel to change the size and shape of a tooth.
Teeth Whitening
If you are looking to remove surface stains from your teeth and get a brighter smile then look no further than professional in-office teeth whitening. This painless one-hour procedure can get smiles several shades whiter in just one visit. Your whitening session will entail three, 15-minute whitening applications with a professional grade whitening gel that your Camarillo dentist Dr. Charles E. Scholler activates using a laser. The strength of the gel coupled with our laser technology allows us to speed up the whitening process exponentially.
Dental Veneers
For those looking to hide severe stains, cracks, chips, overlapping, misshapen teeth and gaps between teeth, dental veneers could be the answer you've been waiting for. If whitening can't brighten your smile and your issues are too severe for dental bonding then these thin porcelain shells will be able to fix your dental woes. Two visits are all it takes to get your very own custom-made veneers. We will first remove some enamel from your teeth to make room for your new veneers. Then we will choose a shade for your veneers and take impressions of your teeth. Once your veneers are made you will come back in and have your Camarillo dentist Dr. Charles E. Scholler cement them to your teeth.
Dental Implants
Dental implants offer a long-term solution to tooth loss. Made up of a small metal screw, a connector known as an abutment and a dental crown, dental implants can give you a complete smile in only a few months. Dental implants require two to three surgeries to place the implant, attach the abutment to the top of the implant and then to finally place the crown over the abutment. What you are left with is a natural and long-lasting new tooth for life.
Want to know if you are a good candidate for any of these treatments? Then it's time to schedule a consultation with your Camarillo dentist Dr. Charles E. Scholler. Get the smile you've always wanted.
By Charles E. Scholler, D.D.S.
December 04, 2011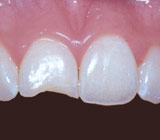 Damaging the crown of a tooth (the part of the tooth that is visible above the gums) is the most common type of dental injury. The tooth may be broken or chipped. It is good to be prepared by knowing how such cases should be treated.
What is the first thing to do if my tooth is chipped or broken?
If fragments broke off the tooth, try to find and save them. They can probably be reattached to the tooth by bonding.
Does a chipped or broken tooth hurt?
The tooth may be sensitive to touch, hot and cold. Depending on the type of injury and how much of the tooth's inner surface is exposed, there may also be pain.
How long can I wait before getting treatment?
Get treatment right away, within 12 hours if possible. Teeth with crown fractures can be treated within 12 hours without affecting long-term outcomes.
What types of treatment may be used?
The treatment recommended depends on the tooth and the type and severity of the injury. Exposure of a tooth's inner pulp can be treated by a pulpotomy (partial pulp removal) technique. Front teeth can be temporarily restored with special cements, or the original tooth fragments may be reattached by bonding. Composite resin bonding may be used to restore the tooth's original appearance and function. Composites can be made in a wide range of tooth colors and can match the original tooth almost exactly.
Is treatment different if the damaged tooth is a primary (baby) tooth?
Chipped or broken primary teeth are generally treated similarly to permanent teeth. The treatment depends on the extent of the injury and damage to the tooth. Treatment of fractured primary teeth also depends on the proximity of the injured tooth to the permanent tooth beneath it, which will ultimately replace it. If a fractured primary tooth cannot be saved, it may be removed.
What if my tooth is loosened but not broken?
If the tooth is loosened but not cracked, broken or chipped, no dental treatment may be required. However, we will collect baseline clinical and x-ray information and keep an eye on the tooth or teeth in the future. We will need to check the tooth during recall visits to see whether the dental pulp is still living or whether it has died as a result of its injury. The latter condition can lead to a variety of problems and will require treatment.
Contact us today to schedule an appointment to discuss your questions about repairing a chipped tooth. You can also learn more by reading the Dear Doctor magazine article "The Field-Side Guide to Dental Injuries."