CEREC 1 Visit Crowns
Dr. Scholler Offers Beautiful Crowns in One Office Visit!
Today's Dentistry uses CEREC 3D®. CEREC technology is revolutionary to dentistry because it creates a beautiful, esthetic, strong and durable ceramic restoration that is precisely bonded to the tooth.

It is accomplished using a digital scan of the prepared tooth and creating the restoration's design using powerful 3D software that allows the dentist to customize the result. The design is wirelessly transmitted to a special milling device that will create your restoration using a dental ceramic.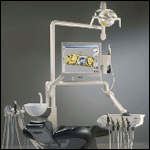 Because this is done in one visit you do not need to have a bulky, messy impression made of your tooth, you do not need to wear a temporary crown and you do not need to come back on a separate visit, often weeks away, to have your new crown placed. It is all done in one convenient visit that lasts a little over an hour. And with this technology you can have multiple teeth treated at once to save you even more time than having multiple visits to treat individual teeth. More sound tooth structure can also be preserved thus minimizing further trauma and the needless removal of healthy tooth structure as in traditional crowns. Once you experience CEREC 3D you will appreciate the result. With hundreds of CEREC restorations placed successfully in our patients mouths it has become the #1 choice by them and us to have their teeth restored when chipped or cracked teeth or large, leaky silver-mercury fillings are present.