Our Staff
We Look Forward To Meeting
and Serving You ...
"My staff and I are so fortunate to be serving some of the nicest, most friendly, intelligent people in Somis, Camarillo, Moorpark, Mission Oaks and throughout Ventura County. We are blessed. Of course a big part of the reason for that is my staff ...

"I think I have the best staff in the county. My front office staff and dental assistants are truly special. My hygienists give the best cleaning and periodontal treatment there is available anywhere ... ANYWHERE. I couldn't do it without them."

"Hopefully you'll get to see for yourself how friendly, talented and involved this special group of people are. Once you do you'll appreciate my enthusiam -- and our patients' enthusiasm -- I assure you."



Charles E. Scholler, DDS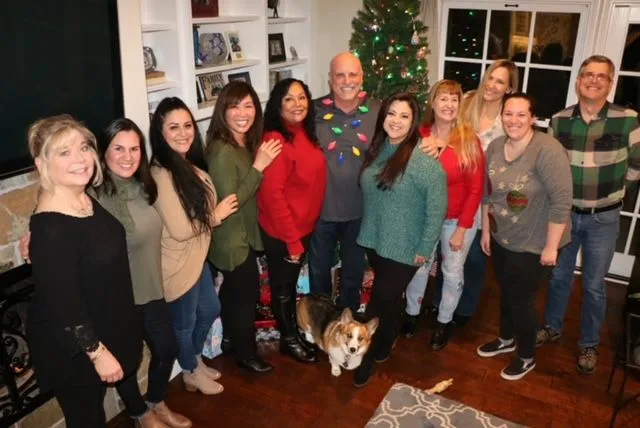 Dr. Charles Scholler, DDS
Camarillo, CA Implant & Cosmetic Dentist
Charles E. Scholler, DDS
Dr. Scholler graduated from Loyola University, Chicago in 1985. He has been practicing dentistry in Somis and serving the Camarillo, CA area since 1988. Growing up in the San Fernando Valley, he received a Bachelor's degree in Biology from California State University, Northridge before attending dental school.
Dr. Scholler is a member of the American Dental Association, Academy of General Dentistry , American Academy of Cosmetic Dentistry , American Academy of Implantology, and the Dental Organization for Conscious Sedation. He is also an Area Director for the Santa Barbara Ventura County Dental Society. He is a graduate of Esthetic Professionals continuing education curriculum. He has helped teach continuing education courses in radiology, dental implants, endodontics and cosmetic dentistry. Dr. Scholler receives over 120 hours of continuing education credits each year so that he can offer his patients the latest techniques, materials and equipment there is in dentistry. Dr. Scholler is also a member of the National Academy of Mini Dental Implants.
In 2004, Dr. Scholler's office was rated one of the "Top 5 Dental Offices in the Country" by a Gallop poll given to his patients conducted for Cigna Insurance Company.
Dr. Scholler lives in Camarillo with his wife, and two daughters. His beautiful wife and daughters are the real joy in his life. His hobbies include golf, tennis, skiing, and baseball. He plays baseball on the weekends with his Dodger Fantasy Camp friends. During baseball season he enjoys going with his family and friends to see the real Dodgers play baseball.
Daniel Cronk, D.D.S., Associate dentist
-Bio Coming Soon

Donna O'Neil, Office manager
Hi I'm Donna. I am Dr. Scholler's office manager, I have been working for Dr. Scholler for over 10 years. I have two beautiful daughters and enjoy traveling, cooking, and spending time with my friends and family. I enjoy working here and meeting new people. I really enjoy seeing the results of the beautiful smiles Dr. Scholler creates for our patients and how happy it makes them.
If you have any questions, please do not hesitate to call me at 805-386-3199. I will be happy to answer all of your questions. Hopefully we'll get to meet soon.

Lisa Banta, Receptionist/ Insurance Specialist
I have worked for Dr. Scholler for over 15 years. Before working here I was a babysitter for Dr. Scholler's daughters. I now have two children of my own. I enjoy camping, dancing and spending time with my family.
I would love to set up an appointment for you so you can see what a great office we have here. I also will be happy to answer any questions you have about our office. Call me today (805-386-3199) to schedule your free introductory appointment.

Veronica Rocha, R.D.A. - Registered Dental Assistant
I'm Veronica also known as "The Zoom Princess." I am a Registered Dental Assistant. I've been in the Dental field since 1998. I'm bilingual (Spanish/English), I was born and raised in Santa Cruz County and have lived in Camarillo since Oct. 2002. I've been working for Dr. Scholler since Feb. 2005.
I love working with Dr. Scholler for many reasons. Two of the reasons you will love having him as your dentist is because he does great quality work and he's great with patients. It's enjoyable to come to this office every day because it's a fun environment. If you have any questions on teeth whitening or cosmetic dentistry, please feel free to call and ask me 805-386-3199). I'll be happy to answer any questions that you might have on getting a Beautiful white smile, that's why they call me "The Zoom Princess." Come see us soon!
By the way, I know about being a Dr. Scholler patient because he did my Invisalign (Invisible braces) and I'm thrilled with the results. I can now smile with confidence ... plus I get a lot of compliments on my beautiful smile. I like that.

Erika Lopez, D.A. - Dental Assistant
I am one of Dr. Scholler's dental assistants. I have worked for a few other dentists in the county but, without question, Dr. Scholler is the best. He does beautiful work and makes coming to work fun and exciting. He has taught me a lot about dentistry and I learn more and more every day. You will thoroughly enjoy working with him. On a personal note, I enjoy spending time with my pets and going out for sushi with my boyfriend.

Suzanne Sing, R.D.H. - Registered Dental Hygienist
-Bio Coming Soon

Gina Hudson, R.D.H. - Registered Dental Hygienist
-Bio Coming Soon

Monique Secreto, R.D.H. - Registered Dental Hygienist
Welcome ... My name is Monique and I have been a part of Dr. Scholler's team for many years. I am a registered Dental Hygienist with expanded functions and I can honestly say that I love my job. I love to study and learn and I find denstistry fascinating. I am always researching dental products, their effectiveness and what particular product will help each patient improve their dental health based on their individual needs.

I love being a part of Dr. Scholler's team. We all get along and work so well together. Dr. Scholler ensures that we all stay on the cutting edge of dentistry together by taking us on continuing education cruises, trips to Las Vegas, and the California Dental Convention. We learn while we're having fun. This makes learning and bonding as a team motivating, fun and creates great memories for all of us.

Outside of the office, I just celebrated my 26th wedding anniversary. I have two daughters with whom I really enjoy spending time. We love to stay active and enjoy camping, boating, hiking, snow-skiing, sports (especially softball and soccer) and I squeeze in time to be the choreographer for our kids choir. As you might guess, there aren't enough minutes in the day to accomplish all that I love to do.

I hope you decide to give our dental practice a try. I'm sure you'll like it. Your mouth truly is the gateway to your whole body and we would be thrilled to help you achieve and maintain your good healh ... dental and whole body. Thanks so much for your interest in our practice. Give us a try.

Jeanne Simondet, R.D.H. - Registered Dental Hygienist
-Bio Coming Soon